The Tupperware funnel is perfectly shaped to make a Valentine chocolate "Kiss". Honestly, I have never tried this recipe. However, this year I may attempt to engage my children in this activity.
Ingredients:
12 oz. chocolate chips, melted
3 Tbs. butter, soften or melted
1 miniature marshmallow
Cooking Spray, such as Pam
Aluminum foil
Strip of paper or ribbon
Small container, (Tupperware snack cup)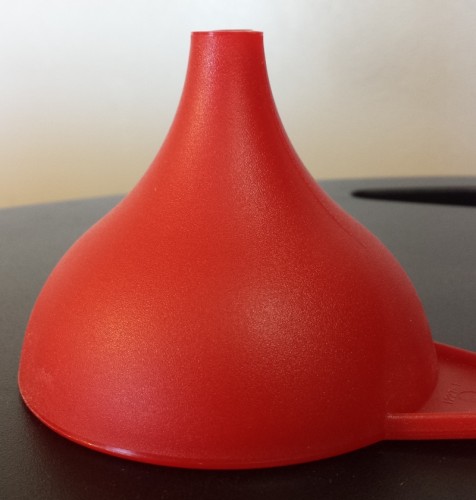 Melt chocolate chips. Be careful not to burn/scorch them. Melt butter. Mix melted chocolate chips and melted butter together well.
Insert marshmallow or a wad of foil into the small end of the funnel to plug it. Spray inside of funnel with cooking spray. Pour melted chocolate chips and butter mixture into funnel. Set funnel, small side down, in a small container to keep it level. Put inside refrigerator or freezer. Let sit until chocolate hardens.
Lay enough foil out flat to wrap chocolate "Kiss". Write a message on the strip of paper or ribbon. Lay paper or ribbon on top of foil. Remove "Kiss" from frig or freezer. Cup i"Kiss" in hands to warm or just turn upside down in middle of foil. "Kiss" should fall out of funnel. Wrap foil, with paper or ribbon inside, around "Kiss".  Deliver to Valentine of your choice!
Machelle's Tupperware – Independent Consultant