Disclosure of Material Connection: This blog is part of our families ministry. Some of the links in the post below are "affiliate links." This means if you click on the link and purchase the item, I will receive a commission. These commissions enable us to continue our disaster and other missions related ministry. I only recommend products or services I believe will add value to my readers. I am disclosing this in accordance with the Federal Trade Commission's .comDisclosures guidelines."
Disaster touches lives like nothing else.  Whether it is personal, family, or natural, when disaster strikes it rocks your world.  We can have a lasting effect on others in times of crisis.  One of the ways our family is blessed to minister is in times of disaster.
Being a disaster relief Chaplain gives me opportunities to minister to people who have been devastated, often having lost hope and faith in the process.  People often ask me if doing disaster relief work is depressing.  My answer, "Absolutely not!"  Though our hearts grieve over the loss and destruction in disasters, we are uplifted by watching God work in the midst of complete devastation.  The heartwarming and miraculous stories are endless.  I hope to share some of them here with you in the future.
Home Schooling During Disasters
The family members who participate in each disaster vary depending on everyone's schedule.  When the F5 tornado hit Moore, OK in May of 2013 we were deployed a few days later by the Austin Disaster Relief Network.  We were blessed to be able to take the most family members ever to this disaster.  My mom, my youngest daughter, my three boys and I  piled in the van, unsure of what we would find.  Our home education lifestyle often allows us the freedom to drop everything and minister to a community when disaster strikes.  Like many home schooling families, we do not stop educating during these times.  How do we find time to "do school"?   Doing these time we seldom use curriculum, other than possibly while traveling.  However, what I consider to be some of the most critical parts of their education take place during these times.  For instance, in Moore, OK last year, my boys learned how to work twelve plus hours/day for twenty-one days with only two-three days off.  They did not complain.  For my youngest, age nine at the time, that was a huge accomplishment!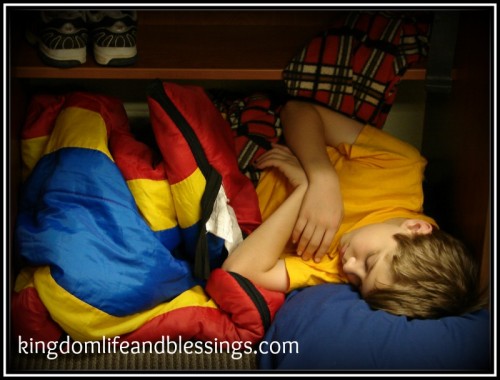 They learned to put others before themselves.  They learned life is precious.  They learned serving is fun (and sometimes exhausting : )   They did a variety of tasks: filled ice-chests with ice and drinks, served snacks, accompanied survivors through the confusing process of getting the help they needed, managed the waiting line, sorted papers, filed papers, stapled papers, greeted survivors, set up tents, put notices on driveways and foundations, and consoled survivors among many others.  There is no way to record the valuable life lessons they learned in those three weeks.  They learned much more than three weeks worth of any curriculum could have taught them.  They learned lessons that will stay with them for life.  In the midst of it all, they touched lives in unbelievable ways!  There were survivors and volunteers who did not want to see us leave. Several volunteers were in tears when we said our good-byes.
They were not crying because I was leaving.  The only reason they even knew me was because there was a constant rumble of "To whom do those wonderful boys belong?"  The crying commenced because the volunteers had been impacted by the lives of three boys.  Three boys, who for three weeks, left their safe home life and gave every ounce of energy and heart they had to a community that suffered unspeakable loss.  Those boys had an impact on a community they will probably never completely comprehend, unless perhaps someday, their children serve in such a way as to open their eyes.
©Machelle Baker April 2014
Linked up @ Thoughtful Spot,  Wedded Wednesday, and The Home School Post