For about three years, I have attempted to blog to keep friends and family apprised of our lives and our various mission focuses.  Recently I decided to clean up my blog and relocate it in an attempt to "get serious" in communicating with others about our mission in life.   In the past I made no real attempt to share my blog with more than a few close friends and family.
This year as I prayed about and made my "New Year's Resolutions"/goals, it became clear God wanted to use my blog to "force" me to use my writing abilities to share His purposes in our lives with you.  I have no idea where this will lead – maybe nowhere in the world of blogging.  However, I am sure wherever it leads or does not lead in the Internet world, He will use it to shape and mold me.
Isn't that how it usually works.  He gives us an assignment/goal/leading.  We jump to conclusions about what He is really saying, what we think this means in our lives.  Then later, usually much later, we have an "aha" moment where we realize that, yes while there was purpose in the actual assignment, the more important purpose in our "assignment" is how He uses it to change who we are and how we view the world.  The core purpose is revealed in the heart change that occurs as we obey.  Thus as I plug along this year with the full intent of wholeheartedly giving myself to the assignment, I am most looking forward to seeing how God uses it to influence who I am and who He is to me.
One of the things I am doing in my more serious approach to blogging, is to learn more about the mechanics of it, how bloggers interact with each other, how the community of bloggers helps each other, what makes it successful, etc.  Earlier this year during my transition to a more concentrated blogging experience I participated in a blogathon.  Now I am participating in a 100 Day Challenge.  This challenge includes doing something everyday to boost your blog.   My hope is this will help me boost my blog.  My goal is to see how much I can learn from the daily challenges.  Feel free to join in with me and other bloggers if you are interested in learning more about blogging.  For more information go to Something 2 Offer.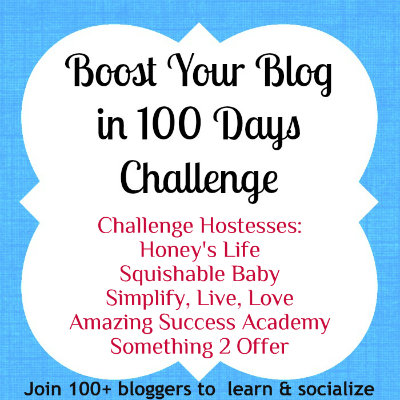 .

This blog has been Digiproved
Acknowledgements: Graphic Courtesy of something2offer.com
All Rights Reserved