Normally when we think of Spring Cleaning we think of our homes. It is the time of year when we open the doors and windows of our homes to get rid of the musty smell built up over the long winter months.  We dust off the ceiling fans, scrub the baseboards, vacuum under furniture.   We uncover the hidden and bring it into the light, clean it and make it shine.  What if we did that very same thing with our hearts?  What if we did Spring Cleaning in our hearts?  What if we examined our lives, brought into the light the things behind closed doors hidden in the dark rooms of our soul?   In this season where color begins to replace the greyness of winter why not bring that beauty, that freshness, that newness into our hearts?
I am not saying there is some deep dark sin in your life.  But each of us have things in our lives that we push aside; things we wish weren't the way they are.  Yet we never really turn and face them.    Why not bring life and blessings into those dark corners where unforgiveness or hard-heartedness have crept in?  Or maybe you've just become passive and apathetic, which can be just as deadly.  No condemnation.  Just let Him bring His light into those dark places.  Let Him change your heart so it shines with His love.  Don't know where to start?   Ask Him.  He knows what you are ready and able to face in yourself.  He will lovingly guide you.
If you need more specific guidance, examine these areas of your life:
1. Spiritual – This is the most critical area of your life.  It you neglect this area it affects every other area! Do you spend time with Jesus, getting to know Him more fully? Do you live a life that feeds your spirit positively? Did you make some new year's resolutions in this area of your life? Are you keeping them? If so, great! Just spend some time reviewing them and examining your heart in this arena of your life.  If you didn't set any goals or you haven't kept the ones you've set, why not use this growing season to start!  His mercies are new every morning, right? Don't beat yourself up if you didn't set goals or haven't been keeping them. Just start with a clean slate.  Let this time of renewal in nature overflow into renewal in your spiritual life.  Ask Him to guide you.  Try journaling to track your progress and relationship with Him.   The most important thing you can do in this area is just to spend time with Jesus.  You cannot become more like Him if you do not continue to deepen your relationship with Him. Spend time with Him.  Take a walk with Him.  Listen to music with Him.  Sit in silence with Him.  Just be with Him.  Let Him transform you.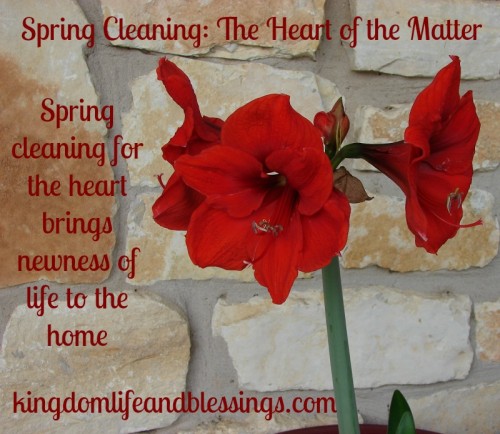 2. Ministry – Are you touching other people's lives "as you go".   The simple things in life mean so much to others: That hug for the elderly woman who lives alone, sitting on her front porch as you walk around the block,  that prayer for the friend in the grocery store aisle, that offer to watch a new mom's children so she and her husband can spend some time together.  These are all simple ways to touch other people's lives in the normal course of your life. You do not need a title nor do you need to devote a large amount of time in order to minister to people.  To minister means to serve or to attend to the needs of another.  Jesus touched people's lives as He crossed their paths.  As He was going about His own life mission, He reached out and impacted the people in His path.  Yes, sometimes the Father calls us to go somewhere specific, to do something specific.  When He does we should go and do.  But how many lives could we greatly impact if we just begin to look for ways to minister to and bless others as we go about our normal routine?  Begin to see the people you cross paths with everyday as people you can touch with the love and life of Jesus.  One of the easiest ways to do this is to change your mindset about church.  Most people go to church to receive.  They expect to be blessed by the worship and motivated by the sermon.  They expect others to pray for their needs.   What if you went to church with the mindset to give?  What if you were on the lookout for people who look like they could use a hug and an extra prayer?  What if you determined to say something encouraging to every person with whom you interacted?  This outlook should not only be applied to church but anytime you cross paths with another human being.  An unfathomable amount of ministry can be done without ever changing your routine, only changing your mindset.
3. Family – Do you need to do some Spring Cleaning in your family?  Perhaps in your immediate family, your extended family, or  your spiritual family?  Are there relationships that need to be reconciled?  Do you want to spend more time with your children or your husband?  Again, no condemnation.  Start today.  Set some Spring goals.  Determine to have new beginnings.  View your family as your ministry.  Set out to serve them.  Determine to show the life and love of Jesus inside your home as well as outside.  A smile, when you feel like frowning,  a soft answer when you feel like screaming, a "yes" when "no" wants to roll off your lips, these are all simple ways you can impact the hearts in your home.  Again, a shift in outlook can open the doors to bringing life and blessings into our home.
Do you want to see new growth sprout in your life this Spring?  It's time for some Spring Cleaning.  Spring Cleaning, though hard work, brings a freshness, a newness into our homes after a long, often hard winter.  This Spring let that newness, that freshness spill over to your heart.  Let Him begin to sprout new growth in your life, your heart, and your home today.
© Machelle Baker
Linked up with Christian Fellowship Friday,  Fellowship Fridays,  Faith Filled Fridays,  Imparting Grace,  Beauty Observed,  Essential Fridays,  Thoughtful Spot, and Wedded Wednesday