I spent many a holiday sad and lonely, deep in self-pity.  On Father's Day, I grieved the absence of a father in my life.  On Valentine's Day, I grieved the lack of someone in my life or was discontented with the state of romance in my current  relationship .   Whatever the holiday I found a reason to be dissatisfied with my current situation.  That all changed one Father's Day as I had a revelation that I had the best Father in the universe.  My Father loved me beyond measure.  My Father sent His son, Jesus, to die for me.   My Father hid me in the shadow of His wing.  My Father loved His Princess totally and completely.  With that revelation came a life changing new perspective not only  of God, but also of holidays.  On Father's Day I would make a card and write out a prayer to my Heavenly Father.  Then I would anticipate Father's Day with great joy.  When Father's Day finally arrived I would open my card and read it out loud to Him, often with tears of gratefulness in my eyes.
What does any of this have to do with Valentine's Day you ask?  Well you see, not only do I have the best Father in the universe, I have the best friend, the best brother,  and the best bridegroom and husband.  My understanding of God had shifted.  Thus my life was altered, including my outlook on holidays.   I am going to share an experience I had about 20 years ago.  Though this is not a "Valentine" experience it demonstrates the mindset I wish to impart to you concerning how you view God first and holidays second.  By no means, do I mean to imply our relationship with Jesus is based on emotion.  Nor am I implying that He never requires hard things of us.  However, I do hope to offer a perspective you possibly have not considered.
At this juncture of my life I was divorced from an abusive ex.   Not only did I have no interest in men or romance due to my history, I also had no time to even think about this area of my life with three children under five.  One day while listening to Christian radio I heard an ad for a conference that was coming to town on Intimacy.  As I had no interest in Intimacy, in fact would prefer to avoid it, I paid no attention to the ad.  However, every time the ad came on the radio, a little voice inside my head told me to go.  Even though I knew that little voice to be God, I argued vehemently!
I had every excuse in the book.  Although the conference was about all areas of intimacy, intimacy with God, intimacy in Parenting, intimacy in relationships, I knew the conference would be filled with couples.  I also knew the last place on earth I wanted to be, at this point in my life, was in the midst of loving couples listening to revelation on intimacy.  I told God I could not possibly be hearing Him.  I told Him as a single mom, I could not afford to attend.  I asked Him who would care for my children.   With the overwhelming feeling I was supposed to go every time I heard the ad, I finally conceded I must be hearing Him.  I agreed to attend the free evening sessions, but held out that I could not afford the rest of the event.  (Like negotiating with God ever works out for me : )  Not too long after my concession, the phone rang.  It was my best friend at the time.  She said, I think you are supposed to go to that conference on Intimacy I have been hearing advertised on the radio.  I want to pay for you to attend.  As you might have guessed by now the children's care also ended up being provided.  He had taken away all of my arguments.
The negotiations ended.  I conceded, as  I knew without a doubt He was telling me to go.  However, I was not the least bit happy about it.  In fact, I was quite perturbed God would force me into such a miserable place.  I bemoaned my grief to Him.  "Why would you tell me to do such a thing?"  "Why would you want me to be so miserable?"  I was convinced based on the topic, my singleness, especially my divorced single motherhood status, would make for a very miserable weekend.  I let God know exactly how I felt!
I arrived at the first evening session feeling justified as all the couples marched in and took their seats.  I engaged in the worship to the degree I could in my justification and misery.  I went home glad for the worship experience but at a loss as to why God would put me through such an experience.
The following day I returned, determined to be "obedient".  Yet deep down I just wanted the whole thing to be over.  When we broke for lunch that day, the couples headed for their cars.  Those who had come without a spouse or significant other went off to lunch in pairs or groups.  As I walked towards my car with my head down, dejected, alone, and wanting to escape, I was complaining to God about my misery.  I pointed out how right I was about this conference being full of couples.  Then I asked Him why He told me to come here.  I will never forget His response.  That little voice in my head clearly said, "I didn't tell you to come."
I was indignant.  Miserable as I was, I knew He had told me to come.  I knew that as well as I knew my name.  Thus I stopped mid-stride, looked up to the sky and said out loud, not caring who was watching "Yes You did!  What do You mean You didn't tell me to come?"  Immediately came the reply in that soft little voice in my head, "I didn't tell you to come.  I invited you here as your husband – And I want to take you to lunch."  All the anger, indignation, bitterness etc. left immediately.   I was broken. I melted.  I began to sob.  I was overwhelmed with a indescribable sense of deep love and intimacy that continued throughout our lunch and the weekend conference.  We, Jesus and I, had a peaceful intimate lunch that is beyond words.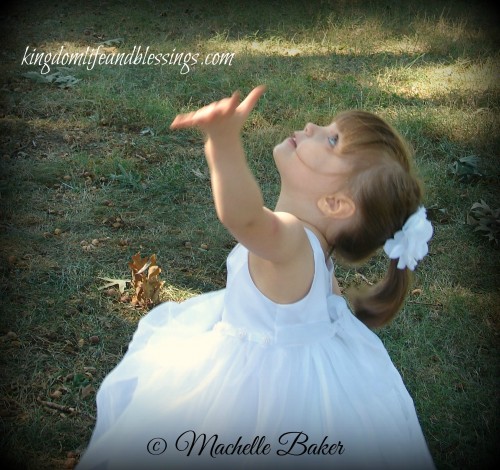 That day I learned perspective is everything.  I had viewed God's desire for me to go to a conference on intimacy as a miserable requirement of outrageous proportions.  I heard his words.   But I failed to hear His heart.   I failed to view His actions as a loving husband who longed to care for me during this difficult time in my life.  I failed to look through the lens of our relationship.
Isaiah 54:4 &5 says:
4 "Fear not, for you will not be put to shame;
And do not feel humiliated, for you will not be disgraced;
But you will forget the shame of your youth,
And the reproach of your widowhood you will remember no more.
5 "For your husband is your Maker,
Whose name is the Lord of hosts;
And your Redeemer is the Holy One of Israel,
Who is called the God of all the earth.
Prior to this incident, several of my friends had given me these verses, attempting to encourage me to let God be my husband.  It took this and several other incidents for me to open my heart to God in this role in my life.    I balked due to my history, not wanting a husband, even if He was God.  Actually, especially if He was God, because though He was perfect, I reasoned without skin on, He could not possibly meet my needs.
I discovered however, I could not have been more wrong.  A couple of years later when God finally brought me to the place I was willing, and the man He would have me marry,  He reminded me of the journey I had taken with Him as my husband and expressed that I should always lean on Him as my Husband and not look to any man to meet the needs only God could meet.
No matter where you find yourself in life, there are certain needs only God can meet.  If we learn to look to Him first we find the fulfillment we need without looking to people who may or may not be able to give us what we need at any particular moment.  (This is not meant to advocate, not needing others in relationships or in the Body of Christ –  We clearly need each other.  That is Biblical.  This is about turning to God first.  It is about changing your perspective.)
As Valentine's Day approaches I want to encourage you that no matter where you are in life, single with no romance in sight, just beginning or in the middle of a relationship, about to step into the covenant of marriage, in a miserable marriage, in an outstandingly blessed and happy marriage, God can be your Bridegroom/Husband.  Look to Him with eyes to see His heart toward you.  He loves you with an everlasting love.  He has invited you to be in an intimate relationship with Him.  See His heart and answer His invitation with a resounding, "Yes!"
© Machelle Baker 2014